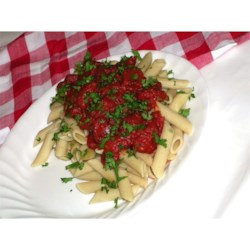 Ingredients:
2(28 ounce) can

s diced tomatoes

2 tblspn olive oil

1 tspn crushed red pepper flakes

4 cloves garl

ic, minced

1/3 cup chopped fresh basil

1/2 tspn salt and pe

pper to taste
Method:
In a large saucepan, combine tomatoes, olice oil and red pepper flakes. Simmer 30 to 40 min or until sauce is thickened. Stir in garlic and simmer 10 min. Remove from heat and stir in ba

sil, salt and pepper.